The CrècheMobile
Corporate Events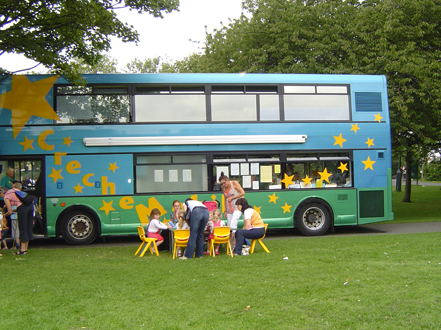 CORPORATE EVENTS & FESTIVALS
Don't hire a tent for your event – hire the Crèche Mobile the childcare on wheels

We are a specialist project that can enhance your event by offering our fully equipped accessible double decker bus that can be used as a mobile crèche or play bus or as a venue for information.

Crèche
If you need a crèche so that parents can participate fully in your event/conference our bus is fully equipped with a huge range of toys for children 0 11yrs. We have a team of qualified workers who are all DBS cleared and have a wealth of experience who can provide a safe, caring and fun environment for children.

Play bus
A play bus can enhance any event, where childcare is not required but you want to add something special to your day. The day is broken up into half hour sessions and children come on to the bus and make a range of crafts they can take home with them.

Venue
Our bus and two staff members can also be booked if you require a mobile venue to carry out surveys, to give information or whatever your requirements. Please get in touch.