Home
Welcome to the Crèche Mobile Project!
The CrècheMobile project has been in operation since 1990 and has a wealth of childcare experience that we can bring to you.

We can provide our bus with highly qualified staff who are all DBS cleared for any of the events below.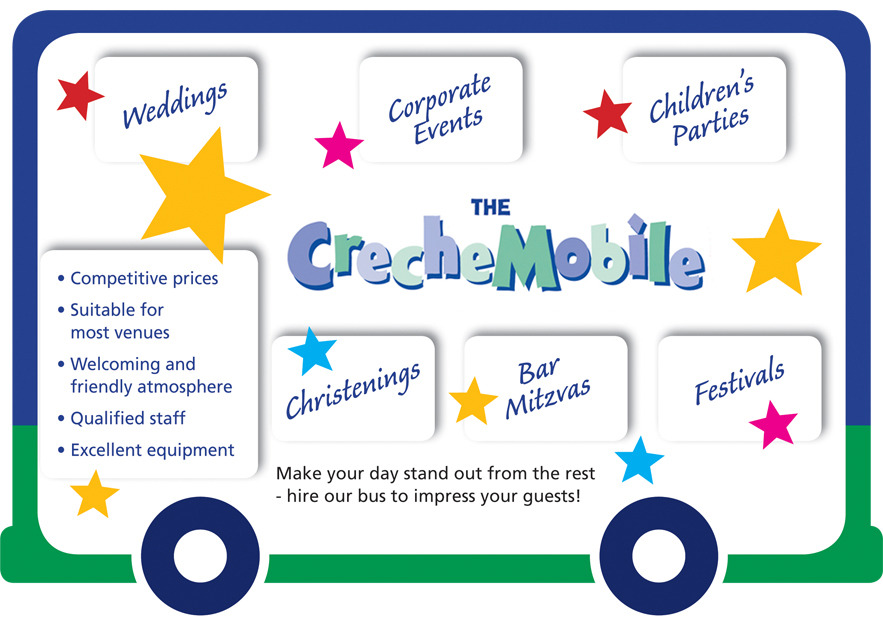 With our fully equipped accessible double decker bus and a team of qualified workers who can travel throughout the North East, we can provide the childcare that you require, knowing your child is well cared for in a safe, fun and stimulating environment. We can provide our services for the following events;

• Weddings,
• Christenings,
• Birthday Parties,
• Bar Mitzvah's,
• Corporate Events
• Festivals.

If you do not require the bus we can also offer you qualified staff and a selection of toys from our huge range of age appropriate equipment, in suitable premises of your choice. The bus can also be used as a playbus, for events where childcare is not required but you want to add something special to your day. The day is broken up into half hour sessions and children come on the bus and make a range of crafts they can take home with them.

Our aim is to maintain and develop a consistently high standard of childcare; we do this by being Ofsted registered and all of our staff being qualified and DBS checked we also aim to provide our staff with new skills and offer a wide range of training opportunities as well as keeping them up to date on new legislation.